Streamline the Shopping Process by Utilizing Our Online Tools
Are you a Highland, MI or Waterford, MI driver in search of your next automotive purchase? At our dealership, we are well-equipped to help with that. We offer a variety of online tools so you can quickly and easily find your next vehicle. Whether you are from Novi, MI or the surrounding area, when you utilize these online shopping tools, you can make the car buying process an easy one.

Choose Your Vehicle
Are you shopping for a new Ram or Dodge model? You can find the best model for your lifestyle needs here at our dealership. Whether you are looking for a car, truck or SUV, you can browse our vehicles online. We offer in-depth pictures and information to help you determine which vehicle may be right for you. Whether you're looking for the new Ram 1500 or a great deal on a used Dodge Challenger, our inventory offers plenty of variety for Michigan shoppers.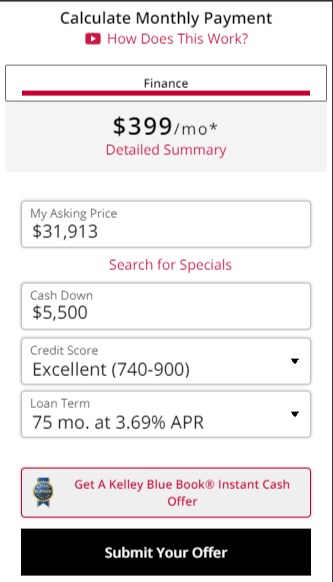 Determine Pricing & Customize Monthly Payments Online
If you are looking to buy or lease your next vehicle, you will also be able to do so online. We want to make the finance process a transparent one, and when you use our online finance tools, you can get a good picture of what your monthly payments will look like. We can factor in your down payment, the value of a trade-in vehicle and various financing terms and rates while automatically applying any relevant incentives to help you get your new Ram or Dodge with a payment that fits your monthly budget! You can even "make an offer" online of what you'd like to pay, and our sales team will get back to you once you submit your offer online. 
Value Your Trade-In
We know many West Bloomfield, MI and Farmington, MI drivers may be wondering what to do with their old ride. Simply put in the year, mileage and condition of your vehicle into our trade-in tool, and you can get a fair price on your car, truck or SUV.
Value Your Trade-In
Get Approved For Auto Financing
Applying for financing is made easy when you choose to do so online. Get approved quickly for your next loan or lease.
Apply For A Car Loan
Enjoy Warranty Coverage
If you are someone who wants warranty coverage or other protections of your vehicle, you can take care of this task online. Something that you are sure to appreciate.
Submit Your Offer and Ask Us About Home Delivery Options
Once you have completed all of the car-buying steps, you can finalize your purchase online. And then, you will be that much closer to improving your automotive experience.