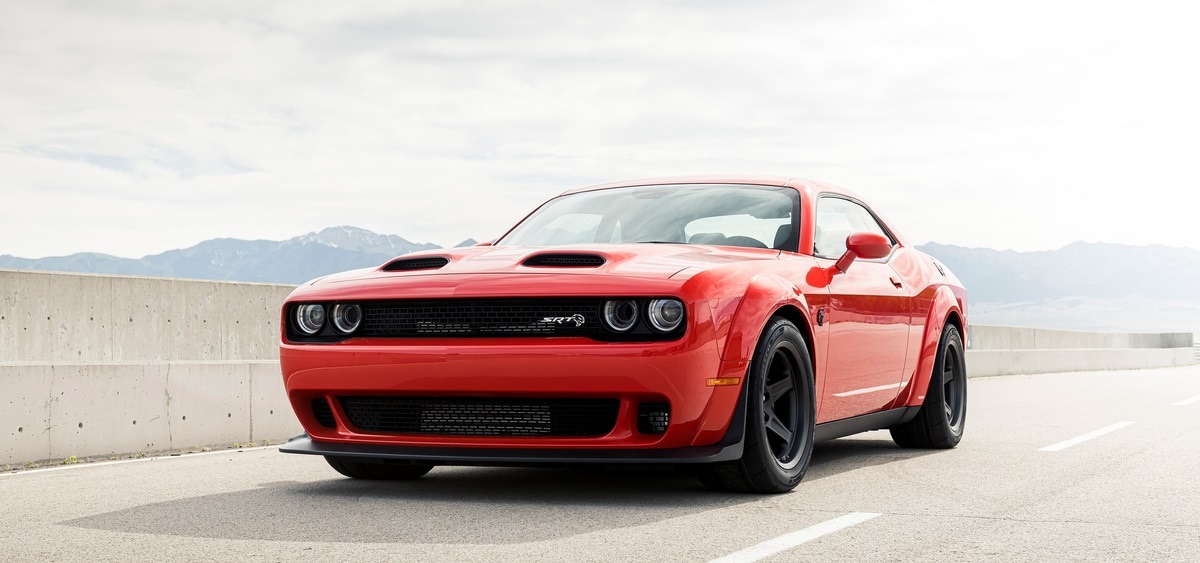 When it comes to Speed, Power, Handling and Customization, is it the Dodge Challenger or the Ford Mustang that takes the Lead?
Although the Dodge brothers got their start working at Ford, only 45 minutes from our Highland Dodge Dealership, they quickly made a name for themselves by improving upon and innovating during the 'one-size-fits-all' Model-T era. Maybe it's because of their connection, their Detroit hometowns, or because they're both American powerhouse names, but when it comes to speed, horsepower, and handling, many will compare the Dodge Challenger and Ford Mustang to one another. This year, with clever design elements increasing efficiency, performance and power, plus its endless customization options it's clear that the 2021 Dodge Challenger races ahead when compared to the Ford Mustang.
Engine
Looking first at what is under those hoods. The Dodge Challenger boasts a standard Standard on every Dodge Challenger is their Supercharged 6.2-liter HEMI® V8 engine that can produce an EPA-estimated 717-horsepower. Along with four available engine options you of any Dodge Challenger model. While the Ford Mustang offers three different engines, Dodge gives you four different engines to consider. The 2021 Dodge Challenger produces more horsepower and torque from its base model trim than the Ford Mustang. When it comes to muscle, The Dodge Challenger takes the award for the highest horsepower of any production car' as the available SRT® Super Stock 6.2-liter V8 engine will take you 0-60 in 3.4- seconds with an EPA-estimated 807-horesepower!
All-Wheel Drive
When it comes to a muscle car, it's not just about the engine. The Dodge Challenger also snags the title of being the "only muscle coupe with all-wheel drive." The Ford Mustang does not offer this as an option. However, all-wheel drive is standard on all Dodge Challenger models. With powertrain capabilities increasing the power to each wheel, allowing it to grip the road for safer traction and smoother handling. The overwhelming benefits include the longer lifespan of both the engine and tires thanks to an all-wheel drive that is able to more evenly distribute the demand, or wear, onto all four wheels rather than the front two.
Advance Braking Systems
When comparing the two brake systems, the Ford Mustang model's standard brakes include vented four-wheel disc power brakes and independent rear suspension. However, the Dodge Challenger is equipped with high-performance braking systems available on all models and offers brake upgrade packages that best fit your needs such as the sport brake system, Brembo brake system (in four or six pistons), and performance brakes.
Suspension
Ford keeps the Mustang vehicle's suspensions in the rear again this year. Whereas the Dodge Challenger comes equipped with performance front and rear suspension standard on all models. But once again, Dodge gives you the option to upgrade your suspension to their high-performance and wide body suspensions. The aluminum suspension system with the Dodge Challenger reduces a significant amount of weight, allowing the lightweight axles to produce plenty of power and a smooth ride.
Customization
Where the Dodge Challenger clearly excels isn't just in their power and torque, or incredible handling, but it is also in thanks to the numerous options for customization at every trim level. Between the 13 different colors, customizable hood, spoilers, grilles, badges, and racing stirpes there's a hundred different ways to create your own Dodge Challenger.
Your car, tailor-made to fit your style of driving, without sacrificing the luxurious technology and latest safety features. The Dodge Challenger is not just a muscle car, just as it is not simply a car. The Dodge Challenger keeps the racing spirit alive while also keeping your day to day in mind.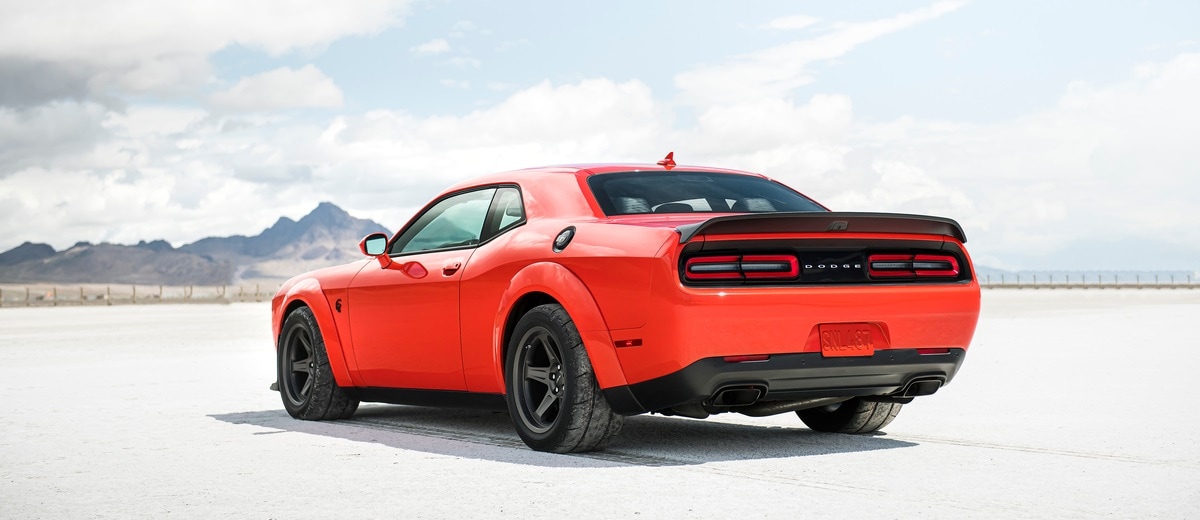 Make your test drive appointment with your local Highland Dodge Dealer